Posts for tag: dentures
By Live Oak Aesthetic and Family Dentistry
January 17, 2021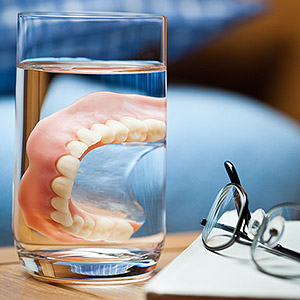 Dentures have come a long way since George Washington's time. Today, they're more comfortable, more secure and more lifelike than our first president's famous hippopotamus ivory appliance.
But one thing hasn't changed: Dentures still require regular care and cleaning. And one of the best things you can do for both your dentures and your health is to take them out at night when you go to bed.
Modern dentures are often so comfortable to wear, it's easy to forget you have them in your mouth. But setting a daily habit of taking them out when you turn in for the night will help you avoid a few potential problems.
For one, wearing dentures 24/7 can increase your risk for both oral and general diseases. Constant denture wear can cause greater accumulations of dental plaque, a thin biofilm responsible for gum disease and inflammation. The increase in bacteria could also make you more susceptible to pneumonia and other diseases.
Wearing your dentures non-stop can also worsen bone loss, a common problem associated with dentures. Normally, the biting forces generated when we chew stimulate bone growth in the jaw. A person loses much of this stimulation when they lose teeth, resulting in gradual bone loss.
Dentures can't replace this lost stimulation, and the pressure they exert on the jaw's bony ridges they rest upon can accelerate the process of bone loss. In time, any bone loss could affect the denture's fit as the bone beneath them gradually shrinks. By taking them out at night, you can help slow the pace of bone loss.
In addition to giving them and your mouth a rest at night, be sure you're also keeping your dentures clean: Take them out and rinse them off after meals and brush them with a small amount of antibacterial soap (not toothpaste) at least once a day. And don't forget to brush your gums and tongue every day with a soft toothbrush (different from your denture brush) to further reduce dental plaque.
If you would like more information on denture care, please contact us or schedule an appointment for a consultation. You can also learn more about this topic by reading the Dear Doctor magazine article "Sleeping in Dentures."
By Live Oak Aesthetic and Family Dentistry
February 03, 2018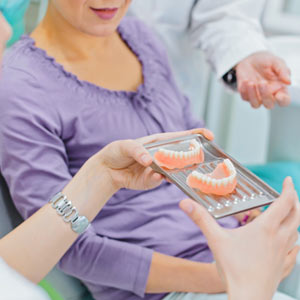 Twenty-six percent of American adults between 65 and 74 have lost all their teeth to dental disease. This isn't an appearance problem only—lack of teeth can also harm nutrition and physical well-being.
Fortunately, we have advanced restorative options that can effectively replace missing teeth. Of these, there's a tried and true one that's both affordable and effective: removable dentures.
Dentures are simple in design: a plastic or resin base, colored with a pinkish-red hue to resemble gums to which we attach prosthetic (false) teeth. But while the design concept isn't complicated, the process for creating and fitting them can be quite involved: they must conform to an individual patient's jaws and facial structure if they're going to appear natural.
If you're considering dentures, here's some of what it will take to achieve a successful outcome.
Positioning the teeth. The position of the prosthetic teeth on the base greatly determines how natural they'll appear and how well they'll function. So, we'll need to plan tooth placement beforehand based on your facial and jaw structures, as well as photos taken of you before tooth loss. We'll also consider how large the teeth should be, how far to place them forward or back from the lips, and whether to include "imperfections" from your old look that you see as part of your appearance.
Simulating the gums. While the teeth are your smile's stars, the gums are the supporting cast. It's important that we create a denture base that attractively frames the teeth by determining how much of the gums show when you smile, or adding color and even textures to better resemble gum tissue. We can also add ridges behind the upper teeth to support speech.
Balancing the bite. Upper and lower dentures don't operate in and of themselves—they must work cooperatively and efficiently with each other during eating or speaking. So while appearance matters, the bite's bite adjustment or balance might matter more. That's why we place a lot of attention into balancing and adjusting the bite after you receive your dentures to make sure you're comfortable.
This is a detailed process that we may need to revisit from time to time to make sure your dentures' fit remains tight and comfortable. Even so, modern advances in this traditional restoration continue to make them a solid choice for total tooth loss.
If you would like more information on denture restorations, please contact us or schedule an appointment for a consultation. You can also learn more about this topic by reading the Dear Doctor article "Removable Dentures."
By Live Oak Aesthetic and Family Dentistry
September 13, 2015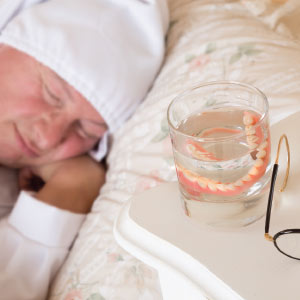 Maybe you don't like to be without teeth — ever. Or maybe you get a little forgetful sometimes. Whatever the reason, if you're wearing your dentures to bed at night, we have one message for you: Please stop!
Sleeping in dentures can have serious health consequences. A recent study published in the Journal of Dental Research found that nursing home residents who wore their dentures to sleep were 2.3 times more likely to be hospitalized or even die of pneumonia as those who did not sleep in dentures. But how can wearing dentures at night more than double your chances of getting a lung infection?
As the study noted, pneumonia-causing bacteria can readily be moved from the mouth to the lungs simply by breathing. And dentures that are not removed at night can become breeding grounds for all kind of bacteria and fungi (such as yeast). That's what makes them potentially dangerous.
Another condition often seen in people who wear upper dentures continually is called denture stomatitis, which is characterized by a red, inflamed palate (roof of the mouth) that has been infected with yeast. The yeast microorganisms can also infect cracked corners of the mouth, a condition known as angular cheilitis. Moreover, it has also been shown that people who sleep in dentures have higher blood levels of a protein called interleukin 6, which indicates that the body is fighting an infection. Need we go on?
Wearing dentures is supposed to improve your quality of life, not reduce it. So promote good health by taking your dentures out at night, and sticking to a good daily oral hygiene routine:
Remove and rinse your dentures after every meal.
Brush your dentures at least once a day with a soft toothbrush or denture brush and dish soap, liquid antibacterial soap, or denture cleanser (but don't use toothpaste — it is too abrasive).
Store your dentures in water or a solution made for this purpose.
Brush your gums and tongue every day with a soft toothbrush (not the same one you clean your dentures with).
Rinse your dentures in clean water before you put them back in your mouth.
If you would like any more information on dentures and oral hygiene, please contact us or schedule an appointment for a consultation.