Posts for: April, 2018
By Live Oak Aesthetic and Family Dentistry
April 22, 2018
Not long ago the dental bridge was the alternative treatment of choice to partial dentures for restoring lost teeth. Over the last few decades, however, dental implants have nudged bridgework out of this premier spot.
That doesn't mean, though, that bridgework has gone the way of the horse and buggy. In fact, it may still be a solid restorative alternative to partial dentures for certain people.
A traditional bridge consists of a series of porcelain crowns affixed to each other like pickets in a fence. The end crowns are fitted onto the teeth on either side of the empty tooth space; known as abutment teeth, they support the bridge. The crowns in the middle, known as pontics (from the French for "bridge"), replace the teeth that have been lost.
Bridges have been an effective and cosmetically pleasing method for tooth replacement for nearly a century. To achieve those results, though, a good portion of the abutment teeth's structure must be removed to accommodate the crowns. This permanently alters these teeth, so they'll require a restoration from that point on.
Dental implants, on the other hand, can be installed in the missing space without impacting any neighboring teeth. What's more, implants provide greater support to the underlying bone than can be achieved with bridgework.
But not everyone is a viable candidate for implants, and ironically the reason most often has to do with the bone. If a patient has suffered significant bone volume loss, either because of disease or the long-term absence of the natural teeth, there may not be enough bone to properly support an implant. Unless we can adequately restore this lost bone volume through grafting, we'll need to consider another type of restoration.
That's where bridgework could be a viable option for patients in this or similar situations. With continuing advances in materials and new applications, the traditional bridge still remains an effective and important means to restore a smile marred by missing teeth.
If you would like more information on dental restoration options, please contact us or schedule an appointment for a consultation. You can also learn more about this topic by reading the Dear Doctor magazine article "Crowns & Bridgework."
By Live Oak Aesthetic and Family Dentistry
April 12, 2018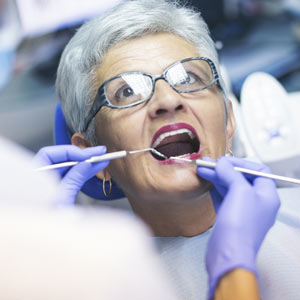 It's likely you depend on your regular dentist for the lion's share of your dental care. But in cases of advanced disease or trauma, you may need the services of a dental specialist.
This could be the case with periodontal (gum) disease, a bacterial infection triggered by a thin biofilm on tooth surfaces called dental plaque that isn't adequately removed through daily oral hygiene practices. While your regular dentist can effectively treat many forms of gum disease, there are times when you should see a periodontist who specializes in the gum, supporting bone and connective tissues.
So, when should you see a periodontist for gum disease treatment? Here are 3 situations that may call for this important dental specialist.
If your dentist refers you. Your dentist may be quite proficient in treating gum disease, mainly by removing the dental plaque and tartar sustaining the infection. But if the infection has advanced deep within the gum tissues especially around the roots and bone, you may need more advanced measures, including surgery, performed by a periodontist.
If you'd like a second opinion. Of course, you don't need a referral to see a periodontist. You can make an appointment with one for another opinion about your diagnosis and recommended treatment plan. If you choose to see a periodontist, make sure they have access to all your dental and medical records, as well as your past health history.
If you have other health issues. Gum disease often doesn't occur in a vacuum – it may exist and even influence (or be influenced by) other inflammatory medical conditions. If you have such a condition like diabetes or cardiovascular disease, you may opt to see a periodontist first for a more comprehensive evaluation.
In the meantime, keep an eye out for the first signs of disease including red, swollen or bleeding gums (if you smoke, be aware smoking hides these signs of disease). And practice daily brushing and flossing as well as obtaining regular dental cleanings to keep plaque accumulation to minimum. Preventing gum disease and getting treatment as early as possible may help you avoid more invasive treatments later.
If you would like more information on treating gum disease, please contact us or schedule an appointment for a consultation. You can also learn more about this topic by reading the Dear Doctor magazine article "When to See a Periodontist."